***UPDATED***
As we said, the site will be updated regularly as the day approaches and here's a full update.
DON'T GET STUCK!!!
So we hear that Buhari is to visit Lagos on Thursday, same day as 'esh, so while we are not convening around the airport, if you live or will have to pass the airport, please leave on time so that you don't get delayed in traffic.
Also consider alternative routes too.
FOR YOUR SAFETY!!!
Then while we are still battling a global pandemic, we are grateful for opportunities to meet together, and to ensure safety for all, please bring your nose masks to the venue
DIRECTIONS!!!
Venue: The Charis Event Centre, Etal avenue, Ikeja (around Oregun)
Charis event centre is located within a church, KINGSWORD International church.
It is on the street that has NNPC filling station, so if you are commuting in from Ikeja, a bus to Ojota is your best bet, and then alight at NNPC bus stop, then walk into the street. Charis is right as you negotiate that bend in the street.
If you are driving, just type in Charis into the map and follow directions to THE CHARIS EVENT (KINGS WORD)
NEED HELP!!!
If you need to speak to any member of the 'esh army, please call
Toluwani on 08163745925
Ewaoluwa on 08164340452
Lisa on 09027447183
See you on THURSDAY!!!
Here is the proposed program for the day, Sisters.
'esh Program
Thursday, December 9, 2021
Doors Open at 9am
| | | |
| --- | --- | --- |
| Time | Activity | Person |
| 9.30am | Opening Prayer | Chidinma Obodozie |
| 9.35 to 10am | Worship | Chisom Ekeke and team |
| 10 – 10.05 | Mentor Video 1 | PDDK |
| 10.05 to 10.15 | Emcee interlude | Barr Dami Busari |
| 10.15 to 10.30 | Global Stay at Home moms. Pre-recorded videos | Oreoluwa Sonola, Amaka Odunowo, Idala Ogufere |
| 10.30 to 10.50 | Prayer session 1 | Eziaha |
| 10.50 to 11am | 'esh Mentor Video 2 | Pastor Mildred Kingsley-Okonkwo |
| 11 to 12.15 | Main Speaker | Pastor Dotun Arifalo |
| 12.15 to 12.30 | Prayer Session 2 and Communion | Eziaha |
| 12.30 to 1.45 | Panel Session (Qn A) | Farida Ladipo-Ajayi, Olubukonla Lawal, Nnenna Ochiche |
| 1.45 to 2.20 | Plenary Speaker session | Eziaha |
| 2.20 to 2.30 | 'esh Mentor Video 3. The Father's Blessing | Rev Femi Oduwole |
| 2.30 to 3pm | Pictures and more | |
Also on Thursday, the first 100 registered moms get a free 'esh prayer journal.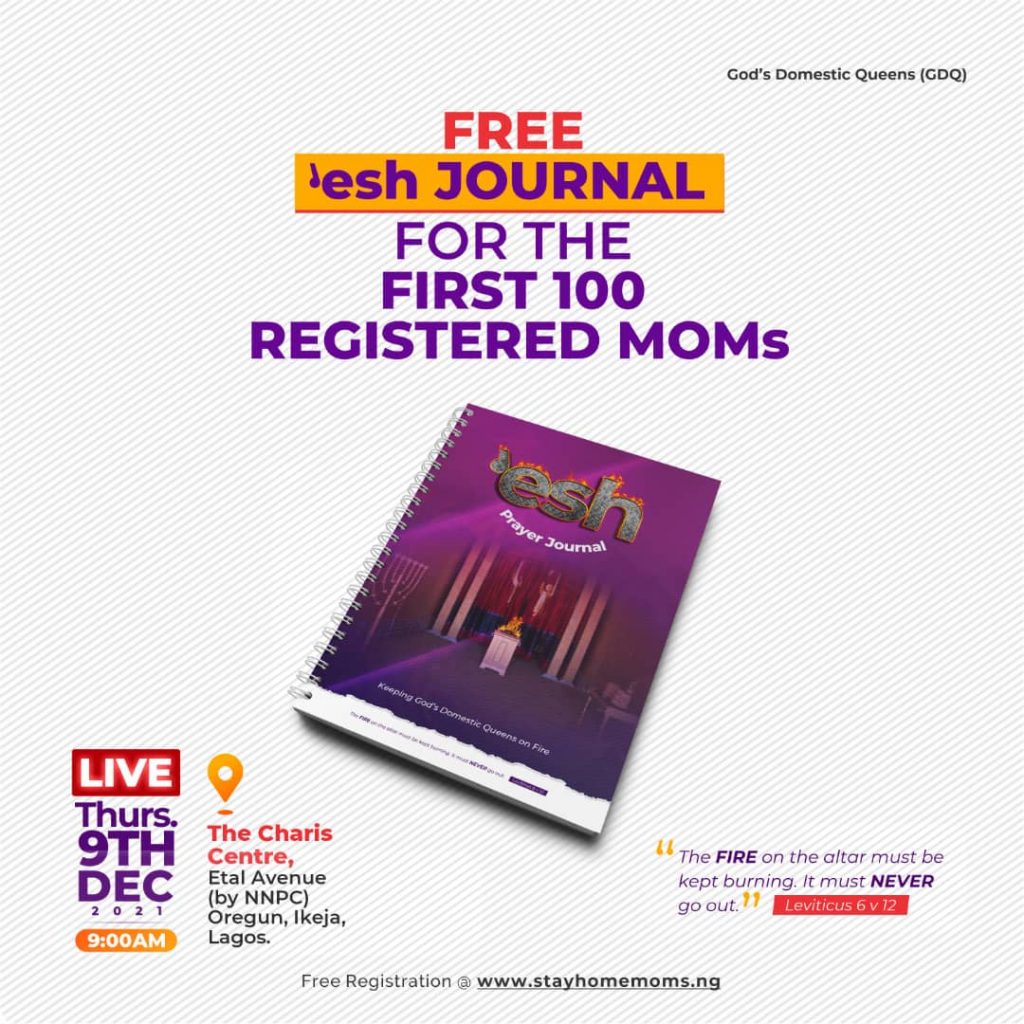 So hurry and register if you haven't already.
Have a sweet peek into my letter to you in the journal as well.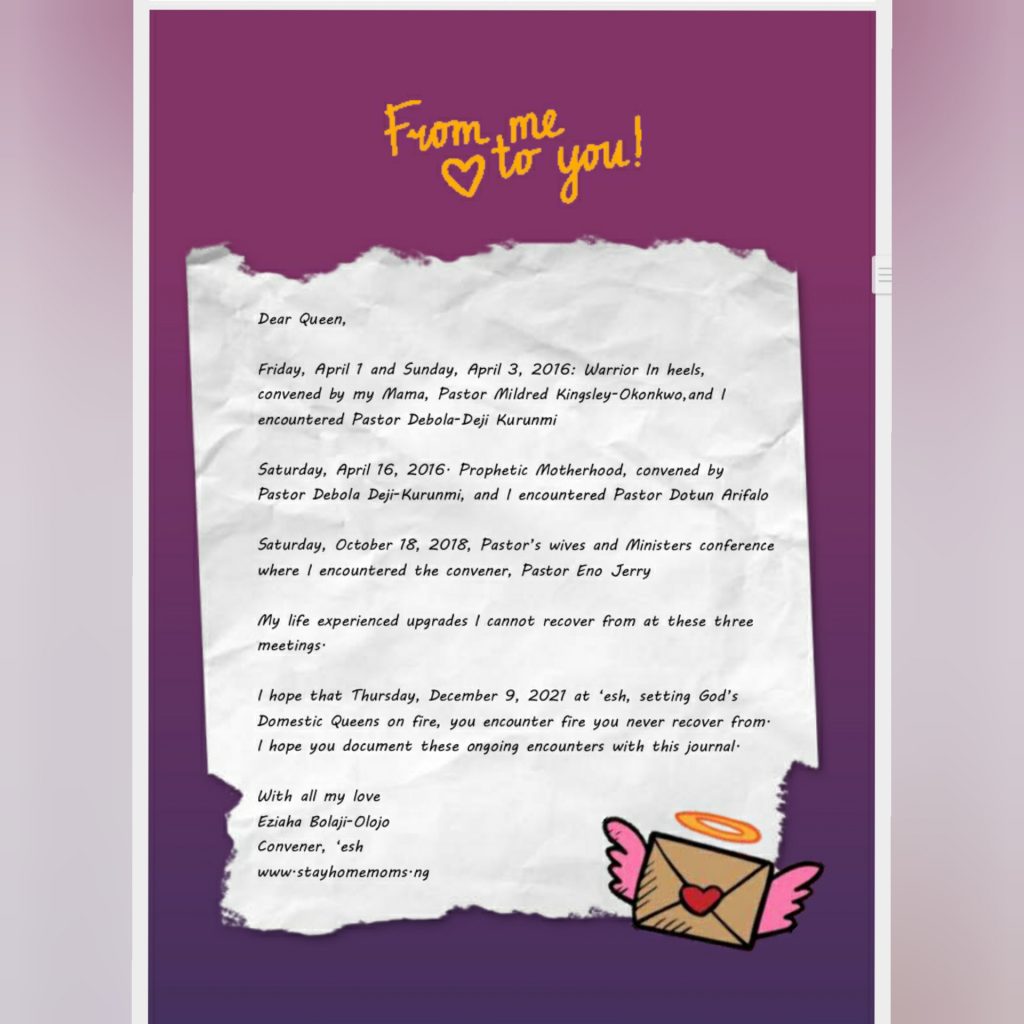 Hello Queens,
Gosh the JOY in my heart to FINALLY share this baby we have been PRAYING, FASTING and WORKING on with my sisters here.
Say HELLO to
'esh
Setting Stay at Home moms on FIRE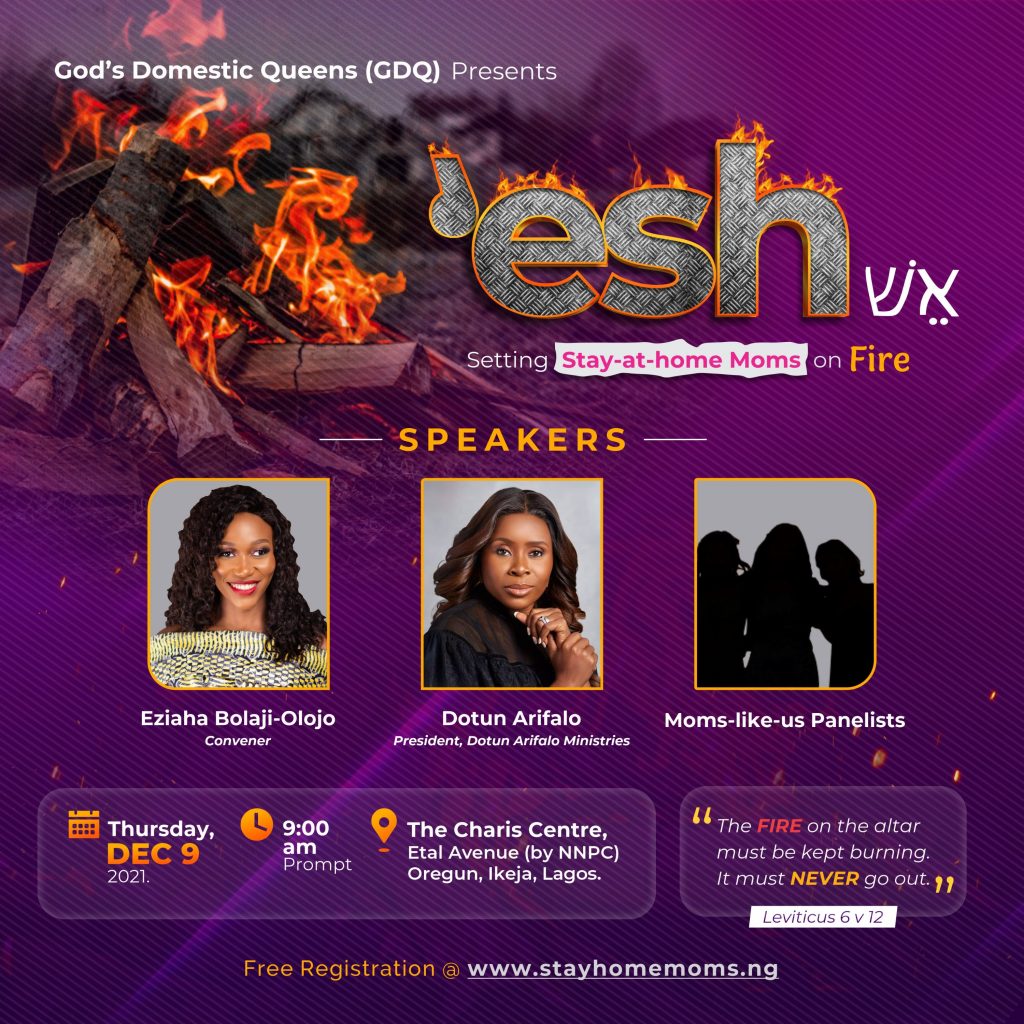 Come Thursday, December 9. 2021, from 9am till 3pm, God's Domestic Queens (GDQs), all 700 of us, will be gathered in Charis event centre, Oregun Ikeja (by NNPC filling station), and we will be set ablaze with a FIRE that will not go out, as we serve our sweet families, as unto the Lord.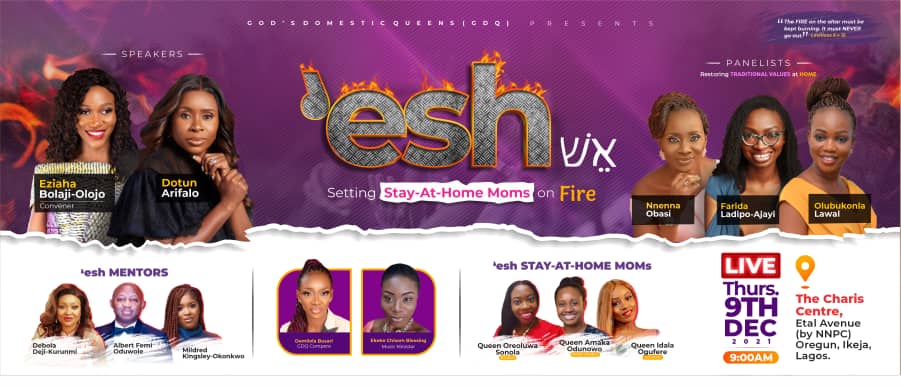 Leviticus 6 v 13 has an interesting command from the Lord to Moses and the children of Israel about the tabernacle they had just built to host His presence. Right in the Inner court holds the altar of incense which God says
Remember, the fire must be kept burning on the altar at all times. It must never go out.
Queens, it's time to start, stoke, and sustain that fire, and right from home, and keep it hot enough to burn out all negative spirits of depression, frustration, comparison, laziness, gluttony, low self-esteem, discontentment and more, while activating us into purpose, joy, and productivity right at home.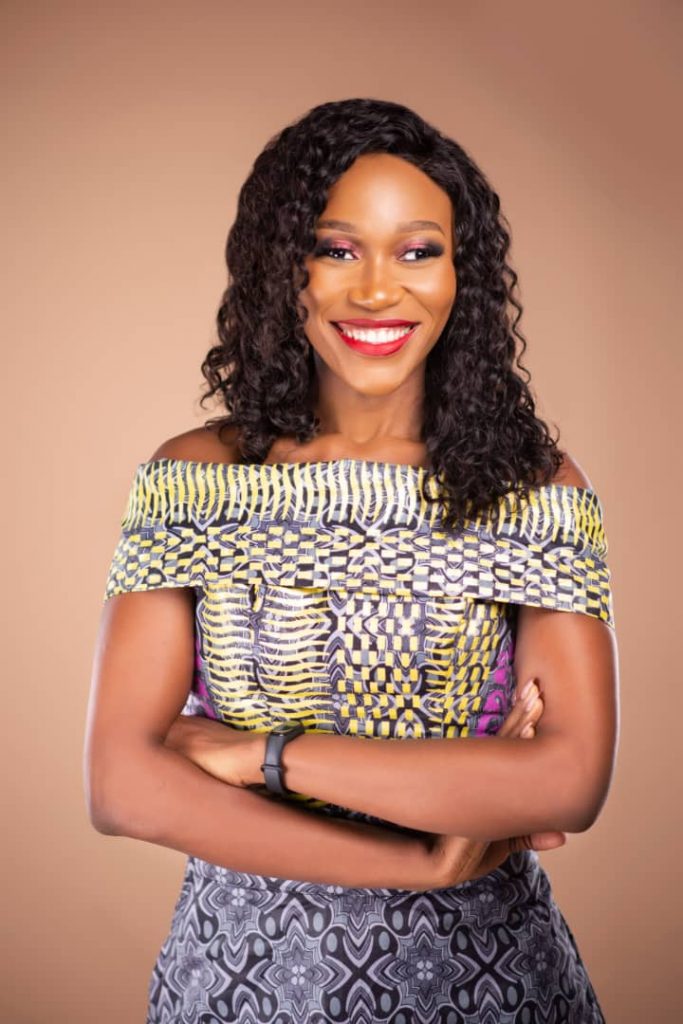 I am SO HONORED to be the Host and Convener of the event, and our main speaker will be Pastor Dotun Arifalo, whose fire I had the privilege of encountering 6 years ago at PROPHETIC MOTHERHOOD put together by my mentor, Pastor Debola Deji-Kurunmi, PDDK. I can't wait for my sisters to encounter that fire too.
We will also be sharing pre-recorded videos from Domestic Queens like you and I, sharing their stories and wins right from the home front. They have been personal blessings to me and I know their counsel, as they work out this 'Stay at home mommy' life, will bless you in no small way.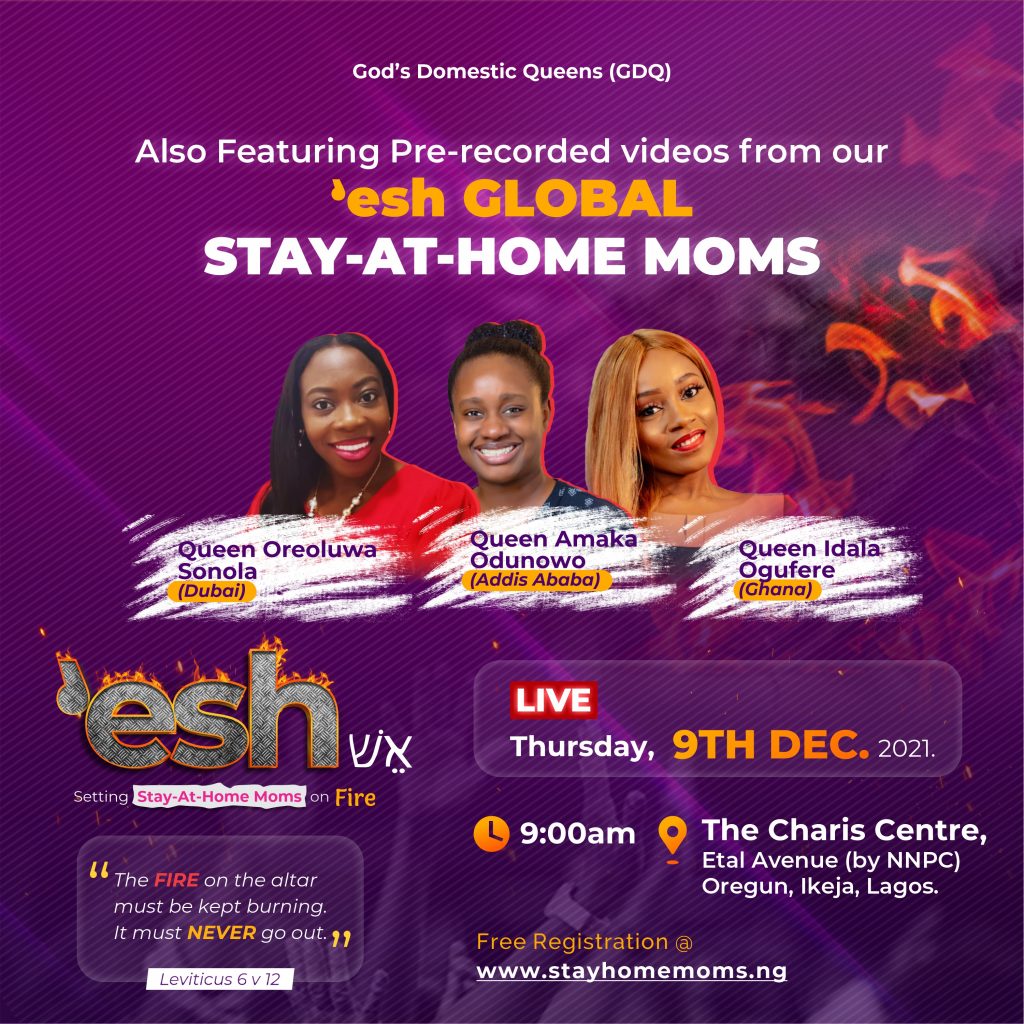 Serving as Compere is Barr. Dami Busari, another Domestic Queen who has such grace, wisdom and eloquence that I couldn't think of a better compere.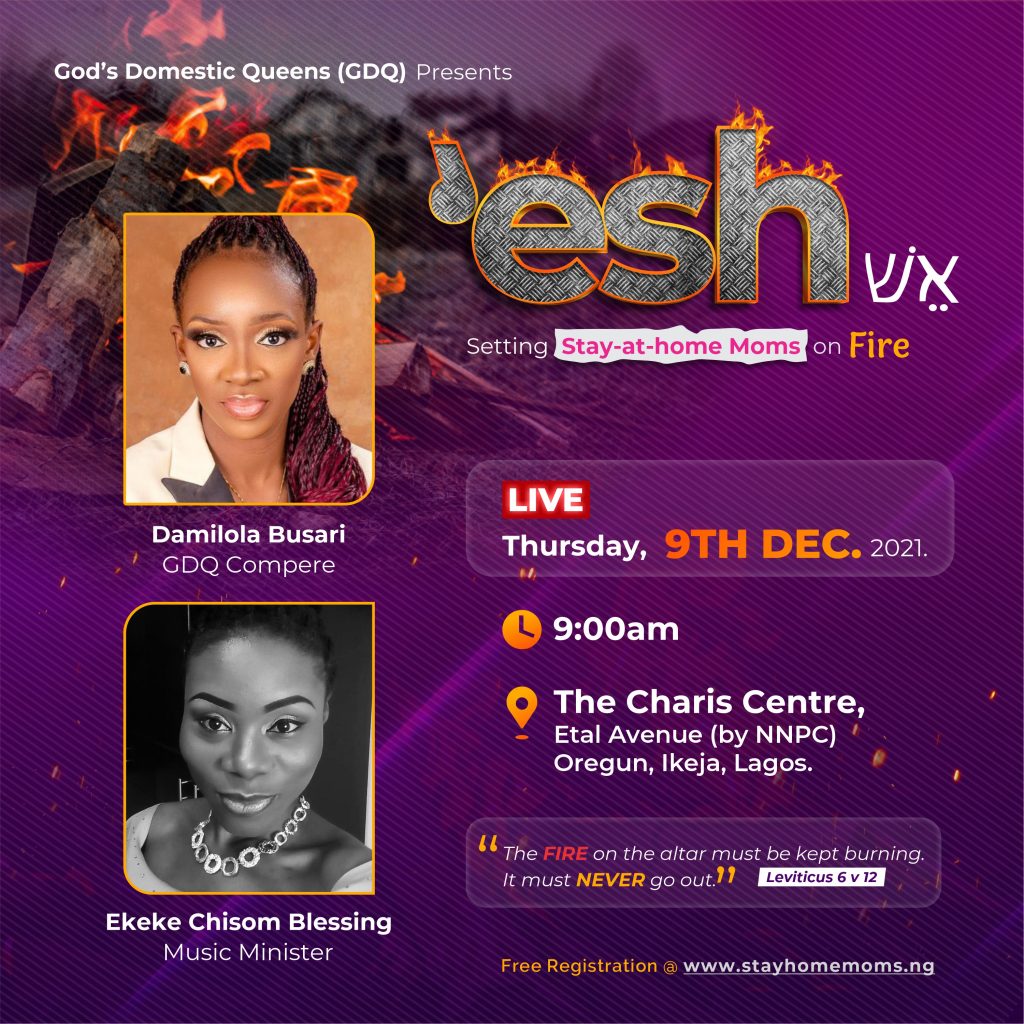 Stewarding the presence of God in worship is one of my younger sisters in the faith, Chisom Ekeke, who serves in the choir department of a church whose leadership has been a tremendous blessing to me, Triumphant Assembly Church. She will minister at different intervals during the event.
And we will equally have a panel session where we'll be discussing the import of restoring TRADITIONAL VALUES at home.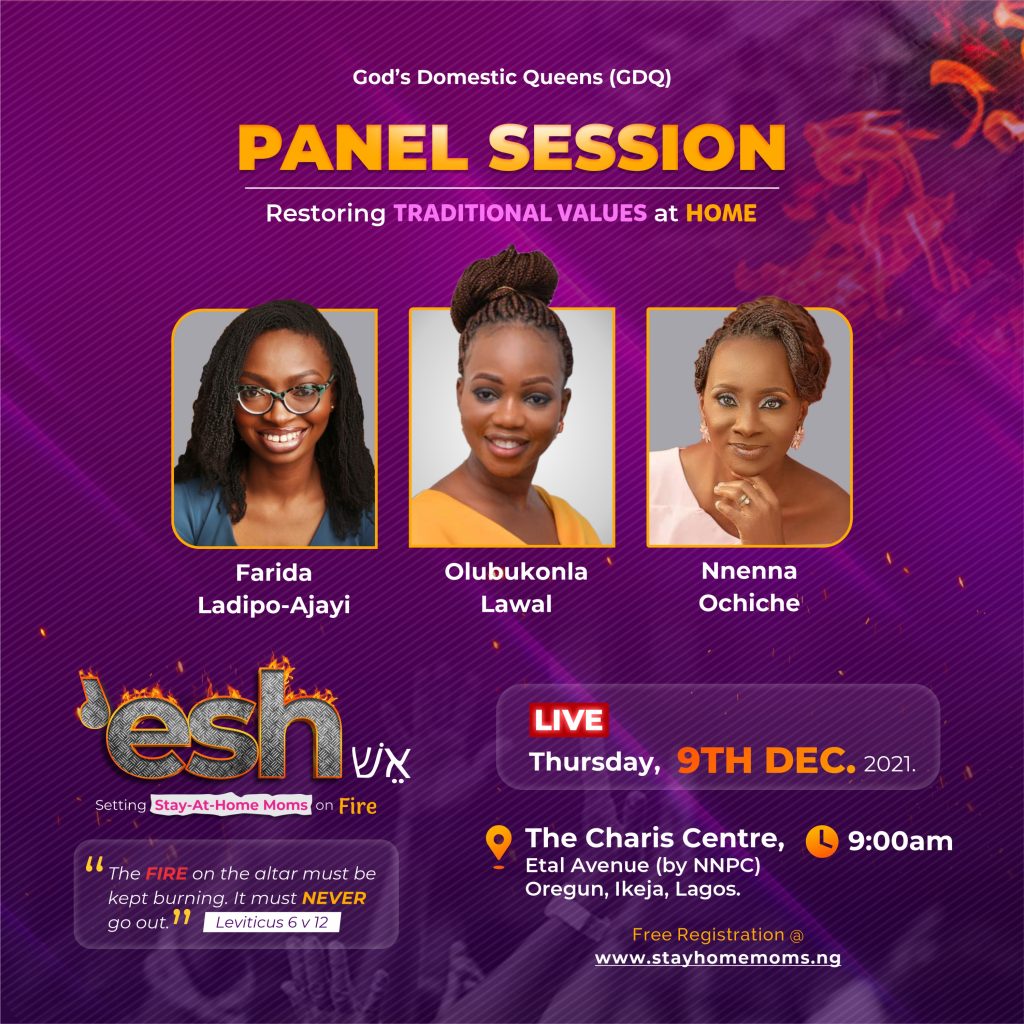 Finally, as a daughter of many graces, three of my mentors will be joining us electronically to both give some words of counsel, and pray a blessing over us. Yes, we will be hearing from my spiritual father, Rev Albert Femi Oduwole, my Spiritual Mama Pastor Mildred Kingsley-Okonkwo and one of the biggest influences in my life today, Pastor Debola Deji-Kurunmi.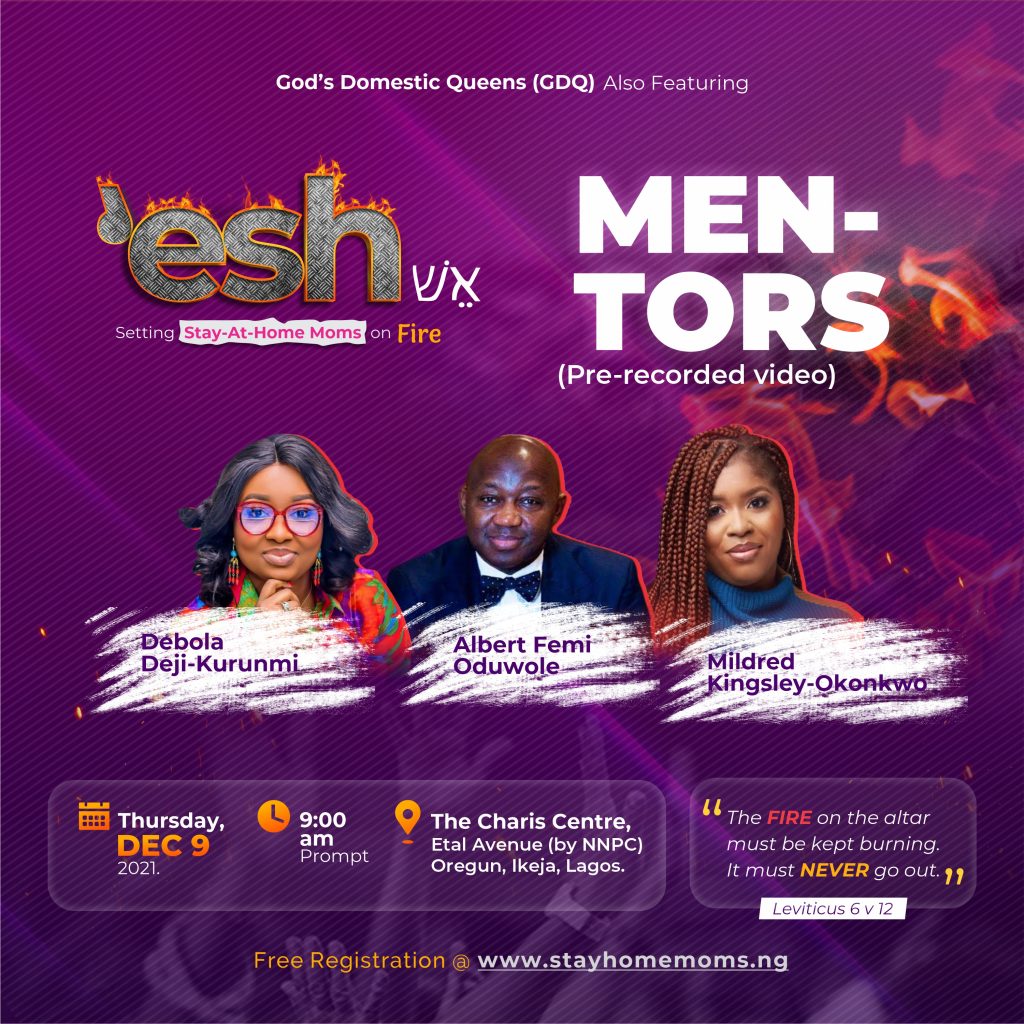 If you feel led to, let me invite you to sow into this account;
Eziaha Bolaji-Olojo Zenith bank 2003496783
You can send a WhatsApp message to 09055868614 to confirm.
Also if you have questions, feel free to drop in the comments and we will be happy to provide answers.
Now, this is how you can SURELY help; by joining our Publicity Army of Queens. While we are looking for GDQs who can help us reach fellow GDQs, we are also open to singles and other women who want to help us spread word.
Click this link to join that group on whatsapp
You can also create your customized flier for the event by clicking on this link, and sharing everywhere. Please don't hold back. We are planning and preparing for 700 women (yes, that is how BIG our Faith is, and why we stepped out on that faith to get a BIG hall too.)
Download your customizable 'esh flier here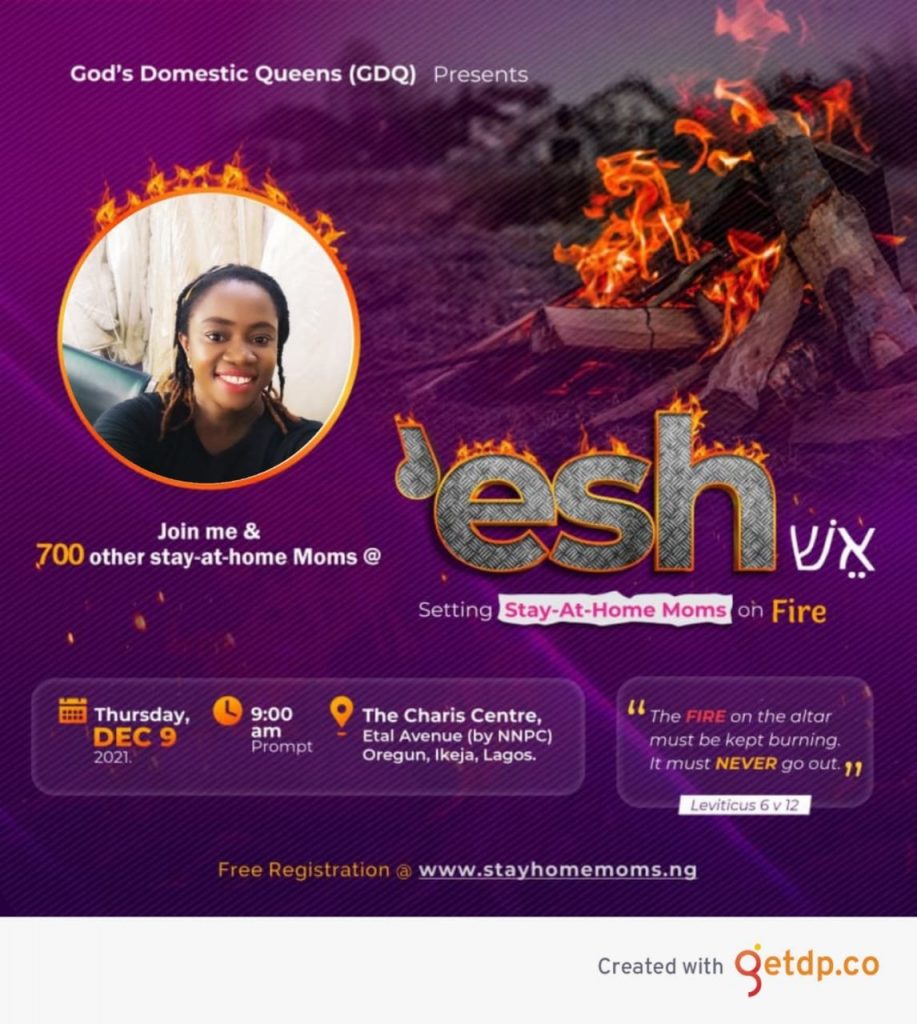 We also covet your prayers so bombard heaven on our behalf, please.
While registration is NOT compulsory, we want to encourage you to register as the first 100 women who register AND show up LIVE at the venue, and get our EXCLUSIVE 'esh Journals to help you track what God continues to do in your life and home as the fire keeps burning. It also helps us track how many of us are coming.
Oh and if you are coming, then make sure to bring something from your kitchen and heart to exchange with another sister.
Yes, we will have a quick minute where you exchange healthy food items (could be anything, but it has to be raw), and also exchange numbers with a sister you are expected to keep in touch with after then.
So please don't come empty-handed; bring some love from your heart to another sister's heart and kitchen hehe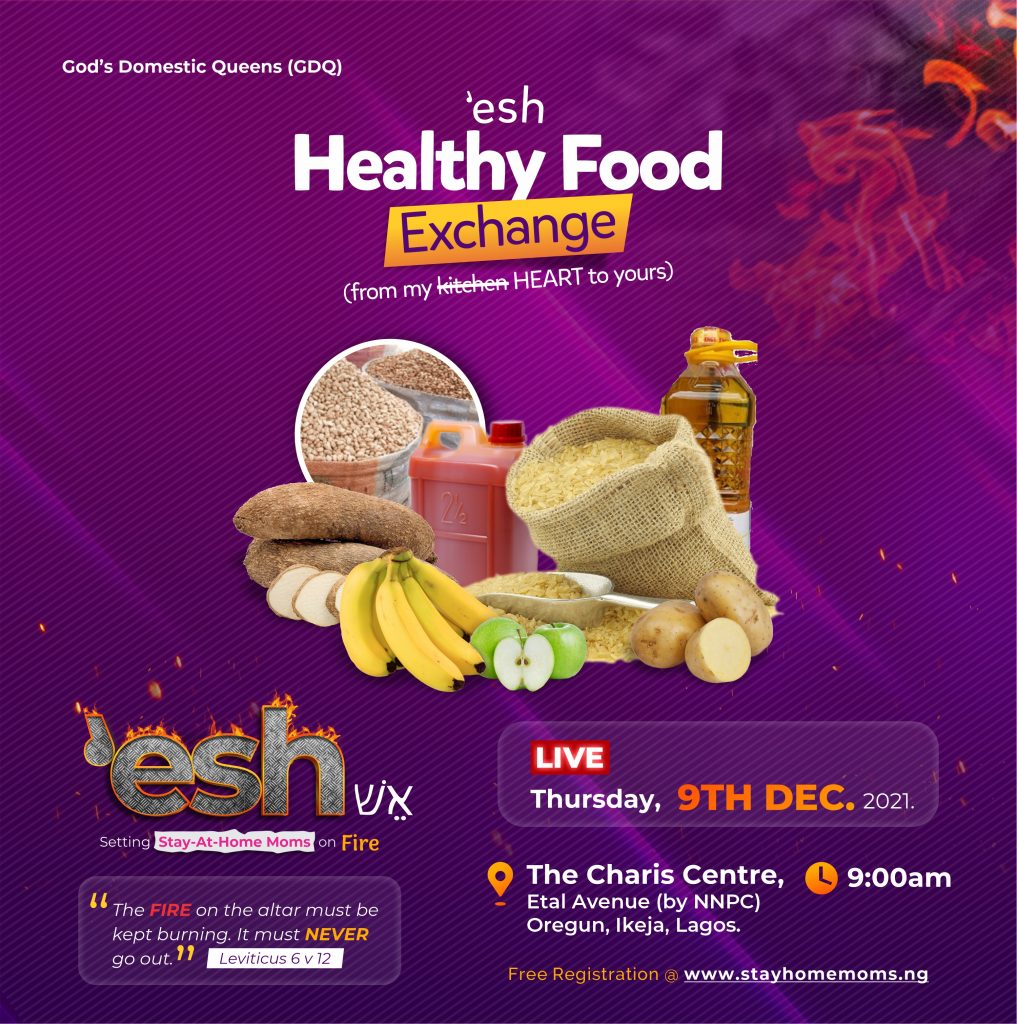 Thank you for being here, praying along, spreading word and preparing to show up on that day. We are counting down with joy and anticipation as we get ready to be set on fire, burning bright right at home.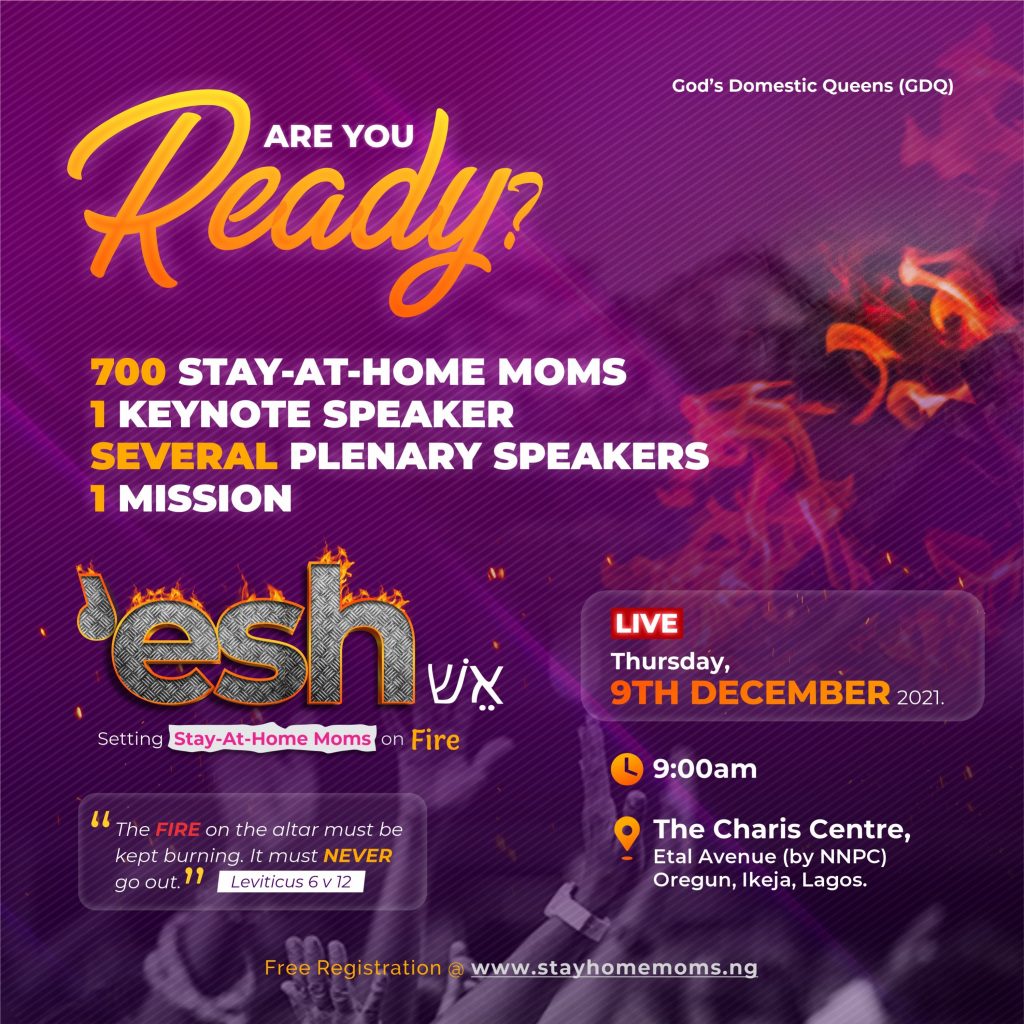 Your Sister and Fellow GDQ,
Eziaha