Hey Queen,
Gosh, how has life been on your end?
Mine has been REAL!!! Lol.
Just as I walked to get my laptop charger, I told the Lord how grateful I was that HE gets to PLAN my daily schedule.
I mean, I am such a planner.
Give me my tasks and a calendar and I am happy as a clown cos I am in my flow, planning and calendaring.
BUT…
Ya girl has ALSO learned that I BETTER submit all my plans to JESUS and have HIM plan my day EVERY DAY!!!
I mean, from the turn of a new day, 12 midnight, right to 11.59pm, I have learned to give it to Jesus.
And I have also learned to stay flexible especially through COVID days when life and every day just seems so different.
I pray YOU are giving your day to Him too to plan and submitting to HIS plans.
Amen!!!
Ok, so time check is 1.30 am and I have planned out my morning right up until 5am when I sleep and then from 8am until about noon which I have some measure of control over.
On my schedule this morning, writing this blog and then a newsletter to those on my GDQ mailing list is to happen between 1.30 and 2.30am
To make this happen, your girl is ON THE CLOCK literally. I can tolerate ZERO distractions. That is what a plan does, it helps your focus and by extension, your productivity.
Amen
Btw, are YOU on our mailing list for God's Domestic Queens? You should join it here
So today, I wanna share one day on my diary with you so practically, you can see how I plan my day.
I had the privilege of speaking to my sister girl, Coach Bukola's Seer class via Zoom last Saturday.
She wanted me to speak on MAKING ROOM FOR PURPOSE IN YOUR LIFE.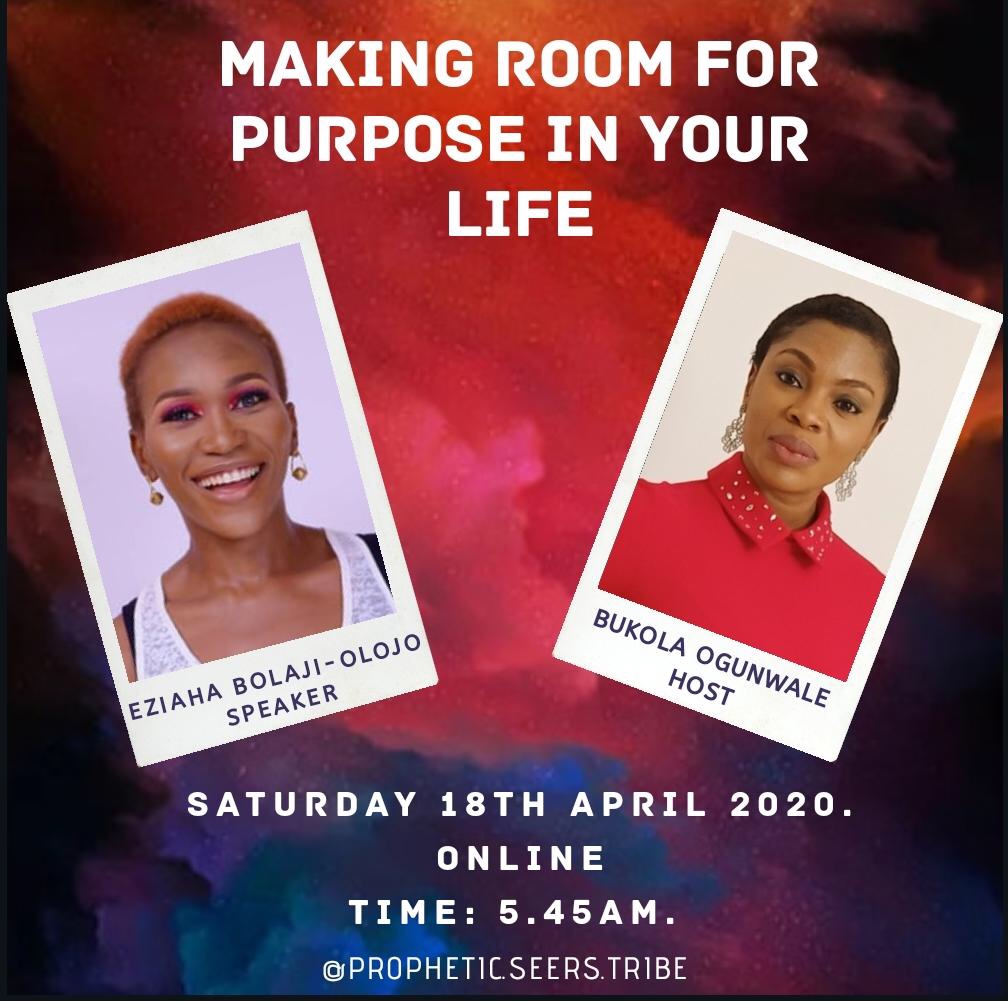 Gosh I had MAXIMUM fulfilment doing it and I loved how engaged the ladies were, even though it was 6am. One of the questions made me bring out my priority planner to read out what it means practically to plan your day, as the lady wanted to know.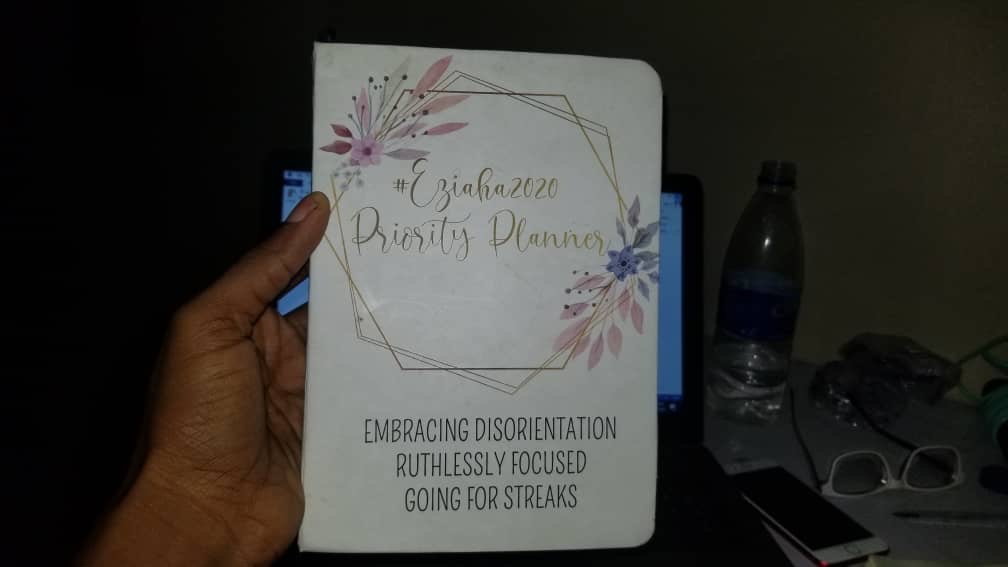 The feedback on how that helped them was REAL and I thought to put it in a blog post for GDQs here too
Ok so here we go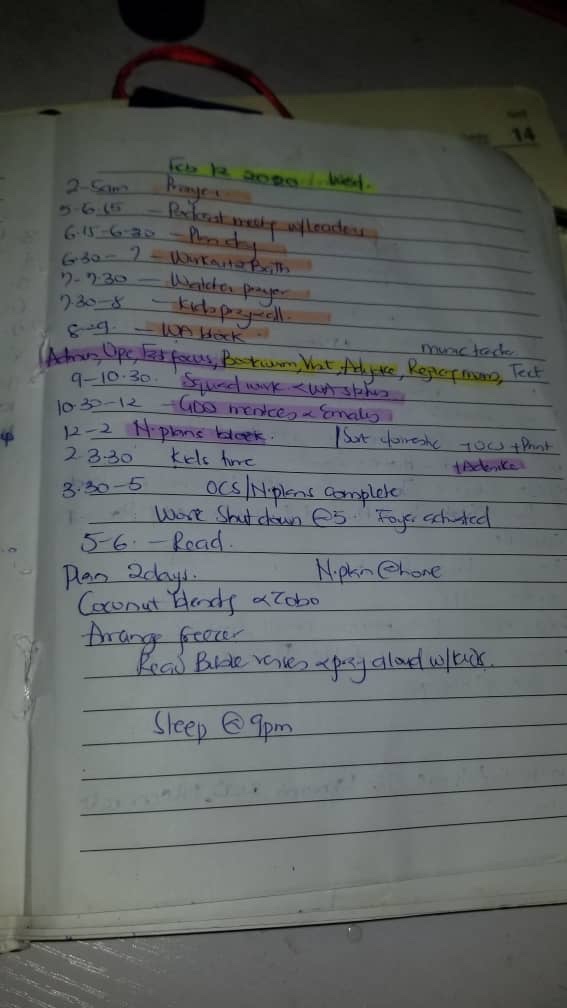 Also note that this was BEFORE the lockdown.
2-5 am Prayers: At that time, I was on a challenge with God to spend a TITHE of my day with God and it was so fun and doable when we started this. Now I am on a different challenge, and though the hours have changed due to this lockdown season, my intimacy and connection with Him hasn't
5 to 6.15: Podcast review with the Leaders
6.15 to 6.30: Plan my day. So basically, I have an idea how my day will go from the previous day and it is usually planned, but this 15mins allows me to tweak and adjust based on the work I woke up to especially from my team
6.30 – 7: workout and bathe
7 – 7.30: Watchers prayer. I belong to a group of ladies and our purpose is to pray together often. Literally be watchmen for our friends and family
7.30 – 8: Pray with kids and off to school
So I typically at the time would hide in a room and give my help at the time, time to bathe and feed the kids. I come out at 7.30 when she is done.
8 – 9: Whatsapp block
Ok so WA is the only social media I have, so I have to keep up with it. However, it gets freaking busy so I must create boundaries around it.
If you look closely, you would see that I specified those I would be reaching then. If time permitted, I would then reach others who may have sent me chats and all.
Once my WA block is up, I am done with WA except sometimein the day opens up and I can catch up again
9 to 10.30 Squad work and whatsapp status
This is where CoachE' sets in. I don't work as a Coach all day. I put defined times to it starting at 9am. In this 1hr 30mins, I catch up on work and then put up my whatsapp statuses and all.
10.30 to 12 ​GDQ mentees
So at the time, I had a mentoring set on, so this was my time to mentor and teach. I also checked and responded to emails then
12 – 2pm: Nutrition Plan block
Here I create any pending Nutrition plans for my squads. This involves DEEP WORK so I block all distractions so I can focus and do good work then.
2-3.30: Kids are back and so I spend time with them, including bathing, lunch and homework
3.30 to 5: OCS and Nutrition Plans.
So typically, 2 hours is not enough to create N.plans so I got back to it then to complete. Then I check out tasks for my then OCS and see how work is getting on with her
At 5pm, I shut down work. Laptop off, phone in foyer mode, meaning I only go to it when I have SPECIFIC tasks to do on it, not just scroll endlessly on it.
5 – 6pm I read based on what is on my reading list
(Find out what books I have read this year, my April reads and how I choose my book list per month on my personal blog here;
E'reads series: My first quarter reads
My April reads (plus review of Q1 Books)
The rest of the day is domestic
Make coconut milk for me, zobo for the house, arrange my freezer, read Bible verses aloud to kids, spend time with hubs if he gets back before 9pm, get kids to sleep at 8pm and I sleep at 9pm, because I have to wake at 2am
SO that is an average day and how I plan my day right down to the hours.
It is not as intense every day, and my weekends are definitely lighter. I also leave a weekday free too and go with the flow but still have some discipline in.
I hope this helps
Like I said, let God lead you, mama
I let Him lead me EVERY SINGLE DAY
Hopefully I can do one for you these COVID lockdown season so you see how I plan the day, but until then, this can give you a guide
I love you, I am praying for you and I hope you are making the most of the season. I have two posts here on the blog and one on Bella naija with tips on how to navigate the home front now that everyone is on lockdown
#Holidays&COVIDays: 3 more tips to help you THRIVE
Through holidays & COVIDays, this is how GDQs will thrive AT HOME.
Dear Stay-At-Home Mom, Fight the Despair, Keep the Joy!
If you have any topic you want me to tackle, please let me know in the comments.
And don't forget to join our mailing list if you are not yet on it
And a quick update, we filled the advertised role for OCQ and thanks to all who applied
I am unable to reply all, like I mentioned in the post but I would also share same in an email to those I sent it to earlier
PS: Wanna join our GDQ mailing list for Stay at home moms?
👇👇👇
http://eepurl.com/geTEcr
To join CoachE's mailing list
👇👇👇
http://eepurl.com/gB0gO5
PPS : Interested in crafting your confessions?see how I craft my confessions and check this out too: lockdown overeating? Try 5 helpful tips
Time check is 2.02am and I am done with this. Now jumping into the newsletter.
Both will now go to my OCQ who will publish and mail later in the day
PPS: Are you looking to create a new work habit at home? Join the 5k #JesusGirlsFit21 challenge
Prayers and Love
Eziaha
God's Domestic Queen